The Mike Portnoy Drum Clinic
Kirkwood High School Lecture Hall
St. Louis, Missouri
November 18th, 1998
Well, it's November 19th, and I am recovering from my first Mike Portnoy clinic. Like the John Petrucci and Derek Sherinian clinic last year at McMurray music, it was informative and stunning. Mostly stunning.
This is the kit that Mike used at the clinic. It's a
close reproduction of the kit he actually has, only
it has about half as many drums.
The clinic was scheduled to start at 7:00. We got there around 6:30 and got in line. About 70% of the crowd seemed to be under the age of 18. This is probably because of the lack of advertising (I saw one ad, total), and the fact that it was held at a high school.
A few of the toys Mike uses
to vary his sound.
The doors opened around 7:15 or so, and everyone piled in. All told, it was a pretty good crowd. The room was almost packed. But about half of those people left without staying for autographs, so I am guessing that a lot of people there weren't Dream Theater fans. There were sign ups for giveaways and people wandered around, checking out the kit, chatting, and setting up cameras and recording equipment.
During the wait time before the clinic started, they had music playing over the speakers. The style sounded very familiar, and I figured it was outtakes from Liquid Tension Experiment (Portnoy, Petrucci, Tony Levin, Jordan Rudess). It turns out it was a DAT of the practice sessions for Liquid Tension Experiment II, which begins recording later this month. From what I heard, it was mostly an improv jam, a la Three Minute Warning. Guitars were also missing from the mix, so it was probably while John was at home with his new daughter.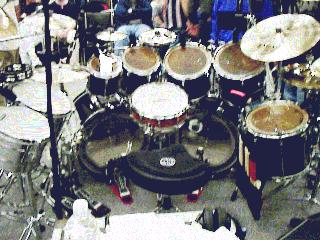 The Kit as Mike sees it.
Sometime around 7:30, the MC got things rolling. He explained the basis of the clinic, which was sponsored by Sabian Cymbals and locally by Mozingo Music. Video and audio taping was allowed, and as usual you could hear about half the crowd cursing for leaving their equipment at home. He went on for a bit, and then introduced Mike.
| | |
| --- | --- |
| MC | "Mike wants you to interact as much as possible, so if you like what he's doing, let him know. Clap, cheer, make some noise." |
| Mike (from backstage) | "Throw money!" |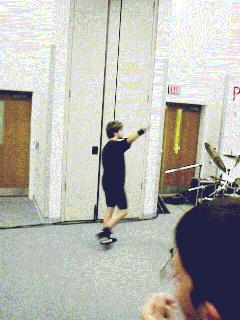 The man. The myth. The legend.
Mike came out and made his way to the kit. He gave a brief hello and then started in on the drums with a lengthy solo. At some point during the solo, he switched from reed to solid sticks, and even though I knew it was happening, I still never saw him reach for the other sticks. The man is fast.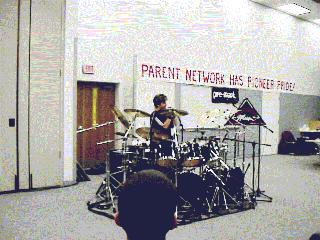 Mike gets the clinic rolling with an introduction
and an overview of his plan.
After his first solo, Mike explained how the clinic would work. After giving an overview of the evening's schedule, he set up his DAT player. He started playing along to a DAT of Paradigm Shift from Liquid Tension Experiment. As he explained it, LTE was written and recorded in 5 days, so this clinic tour is really his first chance to 'practice' the LTE songs. He played along to three LTE songs at different points; the other two were Kindred Spirits and Universal Mind.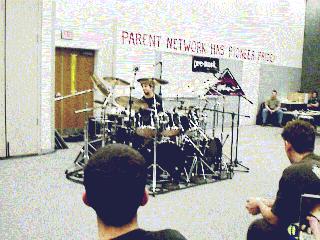 Mike doing what he does best:
going nuts on the kit.
After a bit more playing, Mike went into a short explanation of the theory behind his playing. He explained the mathematical process he uses to break down music to make it more manageble. This included a lesson in counting beats, and different ways of looking at a section of music.
| | |
| --- | --- |
| Mike | "Feel free to clap and cheer all you want. It's the only chance I get to towel off, drink something, and catch my breath." |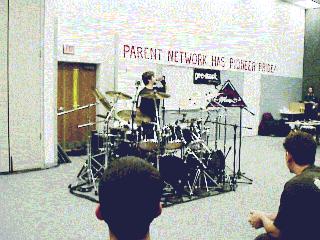 Mike takes a break amidst the stunned applause.
Mike talked some more about his playing style and the things that influence him as a player. He says that he learns from whatever he can, mostly by listening to other drummers and other music.
Guy walks in late through the wrong door.

Mike
"Hey. Are you coming from the bathroom?"
Guy (jokingly)
"Yeah."
Mike
"How'd it go?"

Mike gives him a drum roll as he looks for a seat.
Mike played a 'Drums in Music' medley he had put together. It was approximately 40 or so drum parts from songs. He chose them to show that the drum can be a melodic instrument as much as percussive, and can be just as much a part of the 'hook' of a song as the vocal melody or guitar riff. I got a picture of the set list for the medley. At one point, Mike had to take a break and repair a bass pedal he had broken before starting the medley over.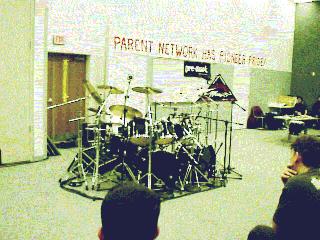 Mike is ducking behind the kick drum
fixing the bass pedal he just broke.
After playing some more, Mike took some time to field some questions. Some were about influences, some about technique. And of course, someone in the audience had to ask about Metropolis Part II (no, it wasn't me). Mike said it has been written, it's 25 minutes long, they have only played it one time, which he recorded on DAT, and they haven't had the chance to work on it since then. He says that it will be on the next CD. When the Q & A session was over, he played Universal Mind from LTE and went to towel off.
This is towards the end of the clinic where
Mike fields some audience questions.
After a short break, Mike came back out to sign some autographs, take pictures, and chat with the fans. Probably half the people there left before he came back out. I would guess they were either drummers that were just there for some theory, or just punk kids that had nothing better to do on a Wed night (or had a curfew).
I think Mike was more worn out from signing
autographs than he was from drumming.
I waited around for everyone else to clear out before I went up to talk to Mike. We talked for a bit about LTE and DT and Mike's other projects. There is a Liquid Tension Experiment tour in planning stages for next year, probably as a support tour for the next CD. Mike says that this is a once in a life time opportunity -- probably the only time LTE will ever tour. So do whatever you have to do to get to one of these shows.
I also asked for a bit more detail about Metropolis Part II. He said that it should satisfy the 'technical' fans, and that some of it is even more insane than the original Metropolis. He also specified that it would be on the next full length album -- not on an ACoS style EP.
Mike also has some other plans for the future, but some of them have been pushed back because of LTE2. Right now, DT is branching off and working with different people, and finding new areas of their playing to explore. He said there would be no more touring for Falling Into Infinity, but that they expect to do their usual half dozen Christmas shows in the New York area.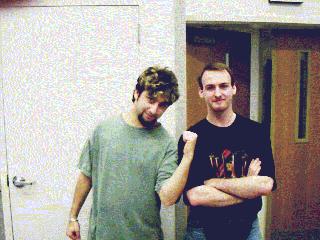 Here I am with Mike after the crowd has cleared.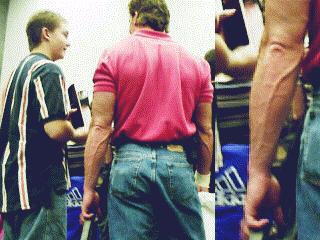 I have no idea who this guy is,
but he must breed by pollination.
He's got roots growing under his skin.
A member of:

All of the photos and graphics contained in this page are copyright 1998 Reality Squared Design. All Rights Reserved. Unauthorized use is prohibited.

last updated: Saturday, July 15, 2000